We regularly invite acclaimed jewellers to visit our studio and provide specialised workshops in specific aspects of jewellery making.
Since, 2013 Melissa Cameron and Vicki Mason, have facilitated workshops on aspects of contemporary jewellery making and design, Barbara Ryman, enamelling techniques, Nancy Megan Corwin, chasing and repousse and Helen Aitken-Kuhnen, Enamelling .
We are planning more workshops with visiting artists.
Beyond The Immediate – Design Workshop with Brenda Ridgewell
Brenda Ridgewell is the former Director of Jewellery and 3 Design at Curtin University, Western Australia, and is the recipient of many prestigious awards.
She has exhibited her work throughout Australia, as well as in the USA, Japan, Singapore and the United Kingdom.
She is leading a two-day jewellery design course on Sunday 20 May and Sunday 27 May 2018. The classes commence at 9.30am and conclude at 4pm.
The course will begin with discussion about the concept of design. The focus will be to on how to develop your own idea/ideas and apply them in a personal process for the development of contemporary jewellery.
The workshop will involve drawing, looking at and collecting images of interest to you and making models of your developing ideas.
Between the two workshops there will be time for you to look at your specific concept interests and bring images, drawings etc. to the second weeks session.
The second session will develop using your personal conceptual base with both group and individual discussion, a series of exercises to develop ideas beyond the immediate and eventually a design or series of designs and plans (models) that you can take forward to a resolved piece of contemporary jewellery.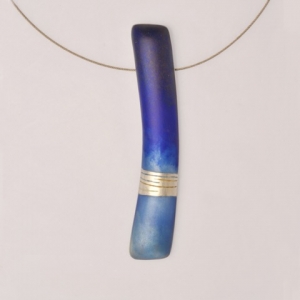 Helen Aitken-Kuhnen
In September 2016, Helen Aitken-Kuhnen visited us and ran two three-day workshops in enamelling.
Helen is an acclaimed Enameller and artist. With a career spanning 35 years, she is well known in the fields of metal, glass and enamel. Her work is grounded in and abstracted from her immediate surroundings as well as her passion and inherent love of the Australian landscape and its birdlife.
Helen will be visiting us again in 2019 to run two workshops and the details will be posted soon.
Enamels and Enamelling with Jacquie Sprogoe
Jacquie Sprogoe has taught enamelling since the 1980's and has exhibited her work with in Australia and Overseas for the past 30 years. In 2017, she facilitated an enamelling techniques class for students new to enamelling.
Introduction to Liquid and Vitreous Enamels with Claire Townshend
Claire Townsend is a local WA jeweller living in the Perth Hills. She has a Masters Degree and has taught at Curtin University, TAFE, Contemporary Metal and privately over the past 20 years
Claire has exhibited extensively throughout Australia, and sells her work from a range of galleries.
She is facilitating a two day Enamelling workshop on Sunday the 21 and 28 October 2018.
This workshop will introduce you different ways of using enamels to create new and contemporary surfaces. Students will be able to make many sample pieces, and a finished pendant over the two -day workshop.
The workshop will cover a basic introduction to surface preparation, preparation of enamels, firing times and temperatures. No former experience is necessary, but if you have done some enamelling previously you will learn something new!
Check our Book Classes page or contact us for more information about upcoming events and workshops.