Suppliers
Contemporary Metal has listed the main metal, tool and gem suppliers we use. This list is not intended to be comprehensive but a guide to some suppliers in Australia and Overseas.
Australian Jewellery Suppliers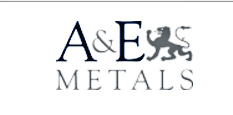 A&E Metals
Large range of silver and gold wire, sheet and solder supply. Other precious and base metals, including platinum, titanium, brass and copper. Range of silver jewellery making supplies for the jeweller and hobbyists, including findings, charms, chain, beads and tools.
Mail Order and Sales:
68 Smith Street, Marrickville NSW 2204
Telephone 1300 360 598
E-Mail: sales@aemetal.com.au
Web: https://www.aemetal.com.au/Webstore/default.aspx
Australian Jewellers Supplies
Tools, Equipment, Consumables, Displays & More For Manufacturers, Professionals, Students & Hobbyists
1st Floor, Suite 4, Clarence House
564-568 Hay Street, Perth, WA, 6000
Telephone 08 9225 5835
E-Mail: perth@ajsonline.com
Web: http://jewellerssupplies.com.au/index.php

Western Frontier Traders
Tools, Gem Stones, Pearls, Findings.
2/41 McCoy Street Myaree WA 6154
Telephone (08) 9330 8384 or 1800308383
Email: admiun@telama.com.au
Web: http://www.bestjewellerysupplies.com.au/
Overseas Jewellery Suppliers
Orders under $1000 do not incur GST
Check for import duty
America

Contenti
Comprehensive range of jewellery and silversmithing equipment.
Gold, Silver and other metals sheets and wire. Findings and Enamelling equipment.
515 Narragansett Park Drive
Pawtucket, RI 02861
Email: info@contenti.com
Toll Free Phone 800-343-3364
Web: https://contenti.com/

Otto Frei
Jewellery tools and equipment, Gemstones, Pearls, metal wire, sheets and tubing and Findings.
126 2nd Street
Oakland, CA 94607 United States of America.
Email: info@ottofrei.com
Telephone: (510) 832-0355
Web: http://www.ottofrei.com/

Rio Grande
Comprehensive range of Silver, Gold and other metals in wire, patterned wire, tubing and sheets. Tools, equipment, gemstones, enamels and findings.
7500 Bluewater Rd NW
Albuquerque, NM 87121 USA
Email customerwebsitesupport@tbg.riogrande.com
Telephone +1.800.545.6566
Web: https://www.riogrande.com/
Thailand

SETT Co. Ltd.
Drilled and cut Gemstones and Pearls
183/24-25 Moo 4, Trirat Rd,
T. Chantanimit, A. Muang,
Chanthaburi 22000, Thailand.
Email: help@gemselect.com
International Telephone: +66-39303404
Web: http://www.gemselect.com/other-gems/drilled-gemstones.php
United Kingdom

Argex
925, 958, 999 Silver Metal sheets, wire, tubing, rods and grains.
130 Hockley Hill
Hockley, Birmingham B18 5AN, United Kingdom
Email: silver@argex.co.uk
Telephone + 0121 248 4344
Web: http://www.argex.co.uk

Cooksongold
Jewellery tools and equipment, Findings, Metal sheet, wire and stamps
59-83 Vittoria Street,
Birmingham, B1 3NZ United Kingdom.
Email: info@cooksongold.com
Telephone + 0345 100 1122
Web: http://www.cooksongold.com/
Your link to the world of tools and equipment
Walsh
Jewellery, Silversmithing and Enamelling tools and equipment and Findings.
44 Hatton Garden
London EC1N 8ER
Email: mail@hswalsh.com
Telephone +44 (0)1959 543 660
Web: https://www.hswalsh.com/
Gemstones supplied by the above suppliers are suitable for Jewellery making.
For high quality Gemstones, Diamonds and Pearls, contact Contemporary Metal.